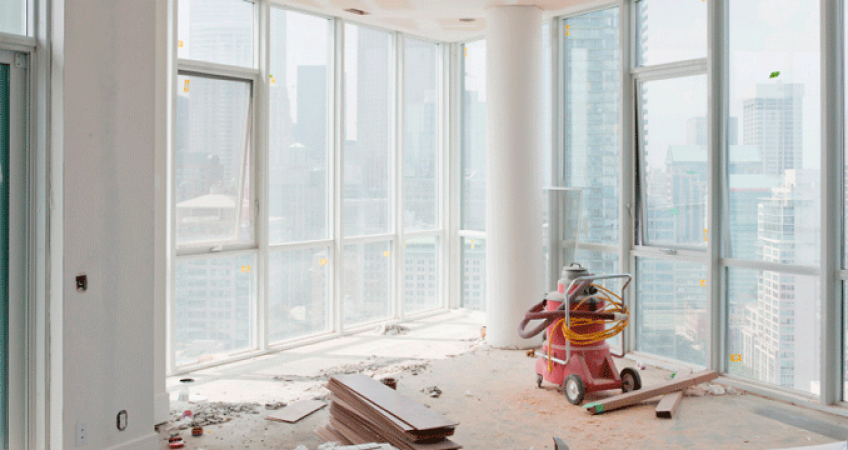 Builders, developers, contractors, and construction companies can count on Dinah Cleaning Services Ltd for our quality and reliable post construction cleaning service.

Even before the dust settles, we are there to help with any construction cleaning needs. Dust removal before painting, garbage removal, pressure washing, or anything else you may need, we are there to get the job done. You can trust us to bring out the brilliance and shine in your new building project. Let us transform your construction site into the clean and beautiful masterpiece you created. We provide post construction cleaning for multi unit buildings as well as commercial post construction cleaning and residential post construction cleaning for builders and home owners.

We understand the urgency to have the site ready for occupancy once the construction crews are done. Because we know what gets left behind by crews, we come prepared to have the site ready in the least amount of time. Our professional cleaners pay close attention to detail and take care of items that others might miss. You can relax knowing that our professional cleaning service will turn your construction site into a welcoming home or business.
100% Customer Satisfaction
Team of
Cleaners

Available
24/7
No Job is Too
Big or Small

Construction is a messy, dirty, dusty job. When your building is ready for occupancy, the last thing you want to do is tackle the dust that gets left behind. You've chosen the best-of-the-best contractors to handle your new construction or renovation projects, but that doesn't mean they're the best at cleaning up after themselves. You're excited about moving in, but the reality of dealing with the mess might leave you less than excited.

Cleaning after construction is different from regular cleaning. Sawdust, silica and drywall dust settle on the baseboards, the light fixtures and on just about every horizontal surface, and your facility needs special attention to ensure all the dust is actually gone—or you'll be tracking dust around and breathing it in for months.

Dinah CLeaning Services Ltd provides construction cleanup services for clients in various industries, from large, new construction jobs to small remodeling projects. We know our clients' businesses are growing and changing. Remodeling or adding onto your building when you begin to outgrow your space is thrilling, but it brings with it a new set of challenges—keeping your building clean throughout the process while you maintain your business operations, for one.
Good and quality Service thanks, you did great work for the Post Construction Cleaning. Thank you!
You guys cleaned the carpet amazing!
Great cleaning service and good value. Highly recommended!